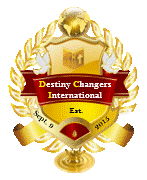 DESTINY CHANGERS INTERNATIONAL
​
DCI FELLOWSHIP
(Supernatural Arena)
The DCI local fellowship in Hamilton, OH (which is in greater Cincinnati, OH) is keen on teaching and preaching the unadulterated word of God to edify and equip the body of Christ to maturity in the things of God. If you want to walk in a practical, victorious life as a believer, then DCI is the ministry for you. You will grow in the word and experience the power and presence of God for yourself.
This local fellowship is riddled with supernatural encounters. It is known for the mighty move of the Holy Spirit and angelic ministry. People who attend fellowship meetings can attest to the move of God in meetings. One can expect healing, deliverance, the 9 gifts of the Holy Spirit in operation, and an intense presence of God.
The prophetic unction, the healing and deliverance ministry of the man of God, Rev. David Mensah Noah and Co-Pastor, Rev. Rosemary Koomson is undoubtedly one of the mighty moves of God in our time. They are authentic, full of integrity and passionate about saving souls and empowering people to fulfill their destiny.
​
Weekly Fellowship Services
​
THURSDAYS
Empowerment & Teaching Service
8:30pm to 10:30pm
​
FRIDAYS
Prayer & Deliverance Service
9:00pm to 11:00pm
​
SUNDAYS
Worship, Prophetic & Anointing Service
10:30am - 1:30pm
6:00pm to 9:00pm
​
​
​
Monthly Fellowship Services
​
1ST SUNDAY OF THE MONTH
*Communion Service
​
3RD SATURDAY OF THE MONTH
*Evangelism/Outreach
​
LAST SATURDAY OF THE MONTH
Dawn Prayer
5:00am to 6:00am