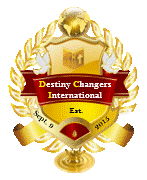 DESTINY CHANGERS INTERNATIONAL
​
DCI Global Ministries, Ghana
Welcome to the homepage of DCI Global Ministries, Ghana. This page is under construction.
​
​
Major Milestone
DCI Opens it's First International Branch
DCI Global Ministries in Accra, Ghana, West Africa
Overseeing our first international branch in Accra, Ghana, is one of our very own, Rev. Richardson Akuaku, and his beautiful wife, Lady Mrs. Christiana Akuaku.
Prophet Richardson as widely known, has been with DCI from the beginning, and has been a constant voice and inspiration to all.
A father of three beautiful children with his wife, Mrs. Christiana Akuaku, is a mentor to many, an international preacher and prophet, who is passionate about missions and winning souls. Together with his wife, Mrs. Christiana Akuaku, who has been his ministry partner, have embarked on missions to villages in the Greater Accra Region and beyond, bringing hope to the hopeless by touching lives with the gospel of our Lord and Savior Jesus Christ.
​
Prophet Richardson dedicated his time to help establish Destiny Hour, our premier ministry facet in September 2015. The destiny hour prayer line brings together all DCI members around the world on one dedicated prayer conference line weekly to fellowship and receive a touch from God.
​
Prophet Richardson in April 2017, accepted the appointment to oversee the DCI School of Prophets. His immense contribution to the developing of the Prophetic Ministry Curriculum for the school of Prophets, has been a great enrichment to the vision of the school.
​
Prophet Richardson officially stepped up to build DCI, GH, in July 2018. His leadership in running with the vision of this ministry, will greatly impact lives in Ghana, as well as the entire African continent and beyond.
Prophet Richardson, and his beautiful wife, Lady Mrs. Christiana's selfless act of service and humanitarian initiatives have not gone unnoticed, but rather has challenged DCI to spread it's wings abroad to affect lives and bring about transformational change in the country of Ghana.
Currently, the ministry is undertaking outreach/evangelism initiatives to build up the fellowship arm of the ministry. Destiny Changers International, D.B.A, DCI Global Ministries will be opening it's ministry doors with an onsite location, soon in the vibrant city of Accra, Ghana, West Africa.