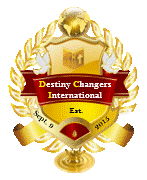 DESTINY CHANGERS INTERNATIONAL
​
We believe in serving in ministry, therefore our members and leaders are encouraged to use their knowledge, skills, talents, gifts and abilities to be a blessing unto others. You may serve in any of the following ministry of helps:
Administration
Our Administration team manages the front office functions of the ministry. This includes our accounting, human resource, publicity, secretarial duties, membership/partnership correspondence, distribution of ministry literature, management of all aspects of the DCI ministerial network/council functions, and general administrative duties. Members with a background in Administration, Communications, Marketing, Human Resources, Psychology, English and Graphic Design are encouraged to join our administrative team. DCI also offers training for our administrative staff.
Altar & Sanctuary Care
The altar and sanctuary care ministry handles the setting up and beautification of the fellowship's sanctuary. Altar items are cleaned, and ministration items replenished and maintained in accordance with instructions from the ministry's presiding clergy.
​
Audio-Visual Ministry
Our audio-visual department is responsible for updating our Easy Worship database which contains music lyrics, media images, announcements and scriptures. The team ensures proper maintenance of laptops, projectors, TV's, equipment, music instruments and all public announcement equipment. The audio-visual department ensures quality sound and visual presentation of the ministry is consistently projected.
​
Events Planning & Hospitality Ministry
The events planning and hospitality ministry team is a well trained and oiled machine that ensures members and guests are warmly welcome and taken care of during times of fellowship and visits. This department oversees food and non-alcoholic drinks are provided during events, conference locations are secured for programs and all the intricacies that go with events planning.
​
Evangelism
Reaching out to the community and the outside world is one of our heart beats as a ministry. The evangelism ministry seeks to win souls for the kingdom of God through the preaching of the word of God, distribution of Christian literature, and other outreach forums to spread the gospel.
​
Intercessory Ministry
DCI's foundation is prayer. This ministry is known for it's dynamic prayer team and atmosphere that is set for each worship service. Our intercessory ministry leads and lifts prayer for all DCI members, partners and also non-members around the world.
​
Media Ministry
Our media ministry oversees our CD ministry, video and photography during worship services and events. This team also work on set with the DCI Network TV crew.
Ministry Communications
This comprises of announcers and Master of Ceremonies for our worship services, prayer conference lines and during events. This ministry ensures accurate and up to date information is always communicated to members and visitors.
​
Missions
Reaching out to the outside world is key to global evangelism. We are engaged in initiatives that are both charitable and humanitarian in nature as a means of fulfilling our Christian obligations to our world. Our focus currently is on Africa, to assist with building viable Christian institutions/churches that will spread the gospel of Christ.
​
Music Ministry
The music ministry oversees our praise and worship ministry, musicians and any music related aspect of the fellowship. We are keen on developing an international music culture to be able to relate to our members and partners, who come from different cultural backgrounds.
​
Protocol Ministry
Our protocol ministry comprises of the following:
Armor Bearers

Greeters

Ushers

Parking Lot attendants

Security
​
These units in the protocol ministry ensures order and safety of our program/worship attendees. Members of the protocol ministry receive training and development to keep them up to date with all ministry rules and regulations.
​
​
​
​
​
"Now you are the body of Christ, and each of you is a member of it. And in the church God has appointed first of all apostles, second prophets, third teachers, then workers of miracles, and those with gifts of healing, helping, administration and various tongues".