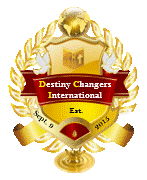 DESTINY CHANGERS INTERNATIONAL
​
DCI 2021 Destiny Hour flyer via zoom jpe
DCI 2021 Destiny Hour flyer via zoom jpe
Destiny Hour is the premier ministry facet started by DCI on September 17, 2015. This international prayer conference line has been a great blessing to many lives in and outside the USA. Destiny Hour is an intensive intercessory prayer time, that is characterized by miracles, signs and wonders, regardless of distance.
​
Great, seasoned men and women of God with proven ministries are featured on Destiny Hour to bring the word of God, lift up prayer and a prophetic word on the lives of the people.
​
We look forward to fellowshipping with you on our international prayer conference line.
​
​
​
Give an offering or sow a generous seed on Destiny Hour to support our guest speakers and ministers who are standing in the gap for you. Give cheerfully today!