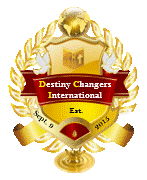 DESTINY CHANGERS INTERNATIONAL
​
FOUNDER & GENERAL OVERSEER
Rev. David Mensah Noah, is an ordained minister of God and has served in ministry for over 20 years under great men of God. A Seer and a Prophet by calling, Rev. David is passionate about souls and is dedicated to restoring lives and families.
Rev. David's ministry is well noted for miracles in the lives of people who need a touch from God, and are faced with challenges in one way or another. Through him, God has blessed the barren with children, cancelled court judgments, brought healing into lives and transformed lives to develop an intimate relationship with God
​
Rev. David Mensah Noah served almost a decade under his spiritual father, Rev. Eric Kofi Owusu, a seasoned Prophet, the Founder and General Overseer of Holy Fire Dynamic Word International, Bronx NY. Prophet Eric continues to mentor Rev. David.
​
The sixth of thirteen children, Rev. David shares the story from his mother who had a dream of him (whilst in the womb) walking on water, indicating he would travel to the nations. True to this dream, Rev. David started his music career at the age of 9 and was already traveling to other countries in Africa and Europe in his teen and young adult years.
​
​
A musician by profession, Rev. David Mensah Noah is also known in music circles as Rev. Joe Mens, due to his master drumming skills exhibited in his youthful days and music career, after a well known drummer who bore that name.
Prior to being called into ministry, Rev. David worked with and played for various world known artists such as the late Lucky Dube, Luciano, Wycliffe, George Benson in the circular world, before he was called into ministry. He was the master drummer of once famed Kente group which toured London, Germany and other parts of the world in the 1990's and early 2000. He is also known for his mastery in reggae music.
Rev. David is a multi-talented musician who skillfully plays a variety of instruments. A psalmist and a composer, Rev. David is also a gospel music executive producer, who has the passion of helping up and coming gospel musicians and artists. Rev. David is the Co-owner of Trem Records & JM Promotions Studio, LLC, the Founder and General Overseer of Destiny changers International.
​​
​
​A very disciplined man of God and a man of integrity, Rev. David exhibits a strong leadership style and brings excellence to the work of God.
As the Founder and General Overseer of DCI, he serves as a Father and Mentor to many.
​
As the chairman of the DCI Ministerial Council and Network, Rev. David oversees the council clergy who are responsible for the licensing and ordination of Pastors.
​
Rev. David Mensah Noah holds an Honorary Advanced Diploma in Christian and Prophetic Ministry, from the DCI School of Ministry (DCISOM), now DCIBIN.
​
​