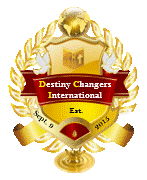 DESTINY CHANGERS INTERNATIONAL
​
Ministries
​
Destiny Changers International (D.C.I) operates on 7 ministry facets. Our divine mandate can be seen in the various areas we opereate in and how God is moving mightily to touch lives around the world.
DESTINY HOUR
INTERNATIONAL PRAYER LINE
​
DCI started as an international prayer line with it's premier program Destiny Hour. This prayer went live with 17 callers across various states in the USA. Today, it is a formidable channel by which the ministry reaches out and touches members and partners who are in various locations in and outside the USA.
​
Destiny Hour is a unique prayer line where prayer, the word of God and prophetic declarations are made upon many lives to transform and set them free.
​
Join us on Destiny Hour, every Wednesday evening from 9:00pm to 10:30pm E.S.T by calling:
Phone number: 712 775 7031
Access: 573513#
LOCAL FELLOWSHIP
CINCINNATI, OH
​
Our local fellowship is an experience of a lifetime. You will always experience the supernatural power of God. If you want to mature as a Christian, then you can fellowship with us and receive great teaching and preaching of the word of God. Join us at the following times:
​
Thursdays: 8:00pm to 10:00pm
​
Fridays: 8:00pm to 12:00am
Last Friday of the month: 8:00pm to 5:00am
​
Sundays: 1st Service - 10:30am to 1:30pm
2nd Service - 6:00pm to 9:00pm
​
​
​
CITY TO CITY CONFERENCE
​​
​
DCI started the City to City conference in November 2015 in the city of Charlotte, NC. Our city conferences are prophetic in nature. Souls are healed and delivered. There is the preaching of God's word and empowerment of people to fulfill their destinies.

​People who have attended our conferences have experienced the power of God, with testimonies that are encouraging to both believers and non-believers.
​
Our 3rd annual conference will be in spring 2018 in the city of Cincinnati, Ohio.
DCI MINISTERIAL NETWORK
- ORDINATION, LICENSING & NETWORK
​
Our DCI Ministerial network was opened on July 1, 2016 to create a platform for five-fold ministry clergy to network and be empowered with resources and tools to succeed in ministry.
​
This ministerial network is the licensing, credentialing and ordination arm of DCI. It serves as an oversight for the clergy in it's network. The network is governed by a 12 member ministerial council.
​
Are you interested in getting ordained to fulfill your call to ministry?
DCI BIBLE INSTITUTE
- ONLINE BIBLE SCHOOL
​
The DCI Bible Institute was founded on December 20, 2015 as the DCI School of Ministry. The school opened online officially on January 6, 2016 with 9 students. On July 1, 2017, it's name was officially changed to the DCI Bible Institute, which now comprises of 3 schools of ministry:
DCI School of Ministry

DCI School of Prophets

Trem School of Worship
​
DCI NETWORK TV
​​
​
Our newest addition to our ministry platforms is our upcoming network TV.

This is our global voice where we reach out to the world through the preaching of the word of God, worship and empowerment discussions to equip believers.

Watch out for DCI NETWORK TV in 2018! Read More...
Humanitarian initiatives around the world.

Support, volunteer and make a difference!​
FEED THE HUNGRY, CLOTHE THE NAKED, CARE FOR ORPHANS & WIDOWS!
​
​
DCI is launching out in 2019 with it's humanitarian initiatives in both the USA and Africa.