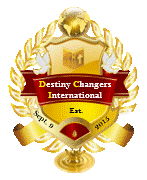 DESTINY CHANGERS INTERNATIONAL
​
You can donate via Cash App to $destinychangers.
Support us with a generous donation to help us spread the gospel. Financial donations enables us to cover the operational cost associated with running a ministry. God richly bless you!
Our vision's growth depends on the generosity of our members and ministry partners.
​
What does it mean to give?
To give is to freely transfer the possession of something to someone. God first gave to man by creating the world and making every provision that man will need before creating man in Genesis 1:26 and giving man dominion over everything in his domain. God did not stop there, but gave His only begotten Son Jesus Christ, in John 3:16, to redeem us from our sin. God has demonstrated the highest form of love by giving to us first.
​
Why you should give:
God is a giver - As children of the Most High God we ought to do as our heavenly father himself does by being a giver and generously blessing us with good things. James 1:17 says "Every good gift and every perfect gift is from above, and comes down from the Father of lights, with whom there is no variation or shadow of turning."
Giving glorifies God – Through our giving, God is glorified! 2 Corinthians 9:13 "while, through the proof of this ministry, they glorify God for the obedience of your confession to the gospel of Christ, and for your liberal sharing with them and all men."
There is more blessing in giving – Acts 20:35 "I have shown you in every way, by laboring like this, that you must support the weak. And remember the words of the Lord Jesus, that He said, 'It is more blessed to give than to receive."
You will reap or harvest when you give – 2 Corinthians 9:6-7 declares "He who sows sparingly will also reap sparingly, and he who sows bountifully will also reap bountifully. So let each one give as he purposes in his heart, not grudgingly or of necessity; for God loves a cheerful giver."
Giving is a form of worship and a sacrifice to the lord – King David who was a worshipper understood the connection of giving as a form of worship to the Lord. 2 Sam. 24:24 says "Then the king said to Araunah, "No, but I will surely buy it from you for a price; nor will I offer burnt offerings to the Lord my God with that which costs me nothing." So David bought the threshing floor and the oxen for fifty shekels of silver." Investing in the kingdom of God is an act of your worship.
Giving pleases God – Your giving pleases the Lord, Hebrews 13:16 "But do not forget to do good and to share, for with such sacrifices God is well pleased."
Giving honors ministry – 1 Timothy 5:17-18 "Let the elders who rule well be counted worthy of double honor, especially those who labor in the word and doctrine. 18 For the Scripture says, "You shall not muzzle an ox while it treads out the grain,"[ and, "The laborer is worthy of his wages."
Store up your treasure in heaven – When God has blessed you, do no withhold from giving to further the work of the gospel. You are commanded to give and save up treasures in heaven. 1 Timothy 6:17 says "Command those who are rich in this present age not to be haughty, nor to trust in uncertain riches but in the living God, who gives us richly all things to enjoy. 18 Let them do good, that they be rich in good works, ready to give, willing to share, 19 storing up for themselves a good foundation for the time to come, that they may lay hold on eternal life."